Blog: Keeping Your Pet Safe on the Fourth of July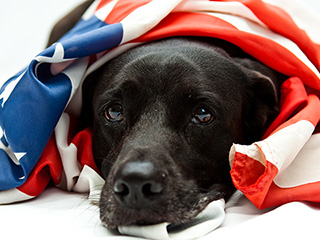 The July 4th weekend creates a "perfect storm" for missing pets. Statistics show that more dogs are lost over the 4th of July holiday than any other time of the year. Public and neighborhood fireworks displays, open doors and distractions at family gatherings are common reasons for a pet's disappearance.  Additionally, many pets are lost while owners are either away on vacation and pets are left with pet sitters, kennels or vet clinics. Pets also go missing during camping and road trips where they find themselves in unfamiliar territory.
It is fairly easy to plan for pre-scheduled municipal fireworks displays. Check with your local municipality to determine when public fireworks are scheduled.  Owners can simply keep their pets inside during the hour before, during and after the event (most public fireworks displays last less than 30 minutes). If your pet is highly stressed by loud noises your veterinarian may even prescribe medications to be given to your pet before the fireworks begin. Dr. Bob Murtaugh, DVM, Chief Medical Officer for Pathway Partners, recommends talking with your vet early and asking about prescribing trial doses during June.
It is not as easy to plan for the intermittent neighborhood fireworks and firecrackers in the days and weeks prior to and after the July 4th holiday. All of the extra excitement and stress of unsuspected pops and booms can trigger even the calmest pet to bolt in fear.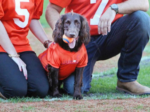 Chris and Anna White of Spartanburg County, SC briefly lost their dog Bonnie, a Boykin spaniel, when she was spooked by fireworks on July 4th, 2016.
"We rode around until about 11 o'clock," said Chris White. Anna White said Bonnie's microchip provided by PetLink is what gave this story a happy ending. "They (PetLink) put me in touch with the family that returned Bonnie to us," she said.
How can you tell if your pet is becoming stressed?  They may exhibit the following signs:  shaking, drooling, howling or barking, hiding, abnormal clinginess and loss of bladder or bowel control.  Bear in mind that your pet may not give you these signs in advance. They may simply bolt or panic when the noise becomes unbearable. Also pets who weren't afraid of fireworks last year may become more sensitive to loud noises as they age.
How can you prevent your pet from being lost or enable a quick reunion if they are lost? Here are some suggestions:
Make sure your pet has a legible identification tag with its microchip number and PetLink phone number on a properly fitted collar (new tags are available at the PetLink store).
Make sure all of your pets are microchipped and the microchips are enrolled with up to date contact information.
Check your fence line for loose boards or openings that your pet could slip through or dig out of.
Consider walking your pet on a leash even in a fenced yard during potential problem times in your neighborhood.
Take your pet for a walk or play date well before scheduled fireworks start.
Keep pets indoors in a small interior room. They may feel safer with a radio or TV playing.
Close your windows. Dogs, in particular, can try and get out of the house by pushing out the screen. They will also bolt through a screen door, so keep the inside door closed.
Enjoy your July 4th holiday but please be aware of the dangers of fireworks and keep your pets safe!