Blog: Spring Cleaning and Care for your Pets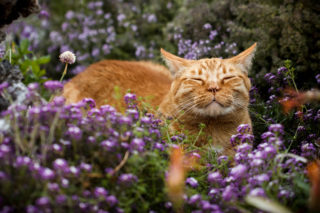 It's almost spring again! As we prepare for the warmer months around the corner, here's how you can prepare your pet for spring and summer:
Watch Out for Open Windows and Doors
The weather is getting warmer, and you're likely itching to throw open the windows and air-out your home. When doing this, remember to double check for holes in screens or half open doors and windows. Your indoor pets may choose to take themselves for a walk!
Make Sure Your Contact Information is Up to Date in PetLink
Need a new photo of your perfect angel? Is there an additional contact you'd like to add? Login to your PetLink account and make sure all the information listed is up to date. In reference to what is mentioned above about open windows, it's worth it to double check.
For additional safety measures, you can check out our line of personalized cat and dog collars and tags that may be personalized with your pet's name and microchip number!
Check Your Pet's Microchip is Working
Get into the habit of asking your vet to scan your pet whenever they are brought in for a wellness visit. Checking the chip regularly is something we should all have top of mind when concerned for our pet's health and well-being.
If you don't have a chance to get to the vet for a microchip check, consider our F1 Personal Scanners, available on The PetLink Store.
Start Flea, Tick, and Allergy Prevention Early
Save your pets (and your entire family) from the misery of dealing with disgusting ticks and fleas by starting prevention early! Ask your vet about the best flea and tick prevention methods and medicines for your pet before you go for that outdoor lounging session or that long hike!
Brush Out that Winter Coat
Your pet may be shedding all year, but it's especially noticeable at the change of season. You may use a de-shedding tool from your local pet store to help cut down on extra fur and hairballs (and, let's be honest, give your pet the spa day they deserve).
Use these tips to prepare yourself and your furry pals to a beautiful and safe spring season!