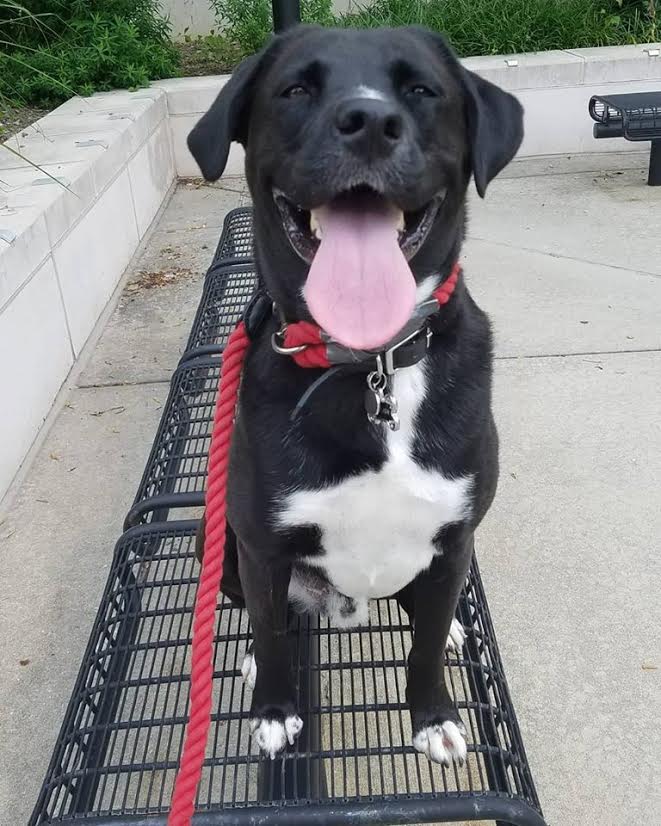 On Thursday morning, my family was having a grand time playing inside and outside of the house. Amid all the noise and bustle, my husband suddenly asked, 'Where's Raleigh?' We checked all around the house and yard, and accounted for all pets and people except our Boxador. My teenager and I immediately grabbed leashes and went to check the neighborhood, calling for Raleigh. He has a high prey drive and I was worried he might have seen a squirrel and got through the fence, though he has not done that in nearly four years. While his collar has my phone number on it, he was not wearing his collar that morning…
One of our neighbors called us over and said she had talked to a woman who had a black dog in her car and was looking for the dog's owner. My neighbor reported that the dog had very happily come running up to the woman's car as she was parked and had begged for attention. The woman in the car told our neighbor that she was posting on Facebook to say she had found a dog. Right away, I found the post that had been added to our county Lost Pets page. I contacted the woman who had posted and let her know that my dog Raleigh was microchipped. I asked her to have him scanned as proof of my ownership.
Shortly after, I got an email from PetLink telling me that our dog had been found and scanned along with a phone number for the vet who had scanned him. I called the vet and immediately went to pick Raleigh up! All in all, this took about two hours. I am very grateful for the microchip and for the lady who found him for quickly taking him to a vet who can scan. Our boy is home safe, happy, and healthy!
---