Blog: Get the Most from Your Winter Walk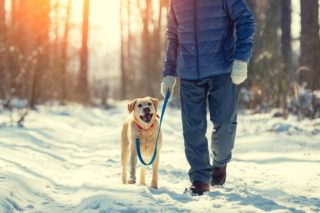 It is finally January and you know what that means: It's National Walk Your Dog Month! We know what you may be thinking: why is such an important month celebrated in the middle of winter? Well, it's a great way to remember the importance of getting outside for some exercise and fresh air, especially during the colder months! Here are some tips to make the most of your winter walks and how to keep them as safe as possible for your dog:
Read Your Dog's Body Language
No matter what the season, it is always best practice to monitor your dog's body language when it comes to the weather. Huskies and Malamutes not included, many dogs will show you they have had enough of the cold by shivering, whining, and/or licking their paws. Save the especially long walks for spring and early summer. If your pooch has had enough of the cold, bring them inside!
Pause for Paws
Paw health is of the utmost importance, and especially so during winter. Besides the cold getting to your dog's pads, there are also harmful ice-melting chemicals littering the pavement that could cause serious damage. Look into getting some paw booties for your pup to help avoid any potential frost or chemical harm to your dog's sensitive toes.
Post-walk tip: Even if your dog is wearing booties, it is good to moisturize post-walk. Using coconut oil is a natural, non-toxic way to ensure your dog's paw health stays steady throughout the winter.
Daytime Strolls
Sticking to pavement is very important for your dog's paw health, as walking in snow for too long may cause frostbite. With that in mind, it may be best to take your walks during the daytime if possible. With potentially un-shoveled sidewalks, walking in the street may be necessary, so a walk during the day makes you and your dog visible to cars.
If walking your dog during the day does not fit in with your schedule, invest in reflective dog collars to add safety to your nighttime routine.
Coats on Coats
For extra protection from inclement weather, it is good to invest in a doggy coat or fleece. No need to get too fancy, but coats and fleeces provide cozy warmth for dogs with shorter fur. Don't forget to wash them often!
Keeping these tips in mind will help you and your dog stay healthy and active during the winter months!