Blog: Halloween Safety Tips for You and Your Pet (with COVID-19 Precautions)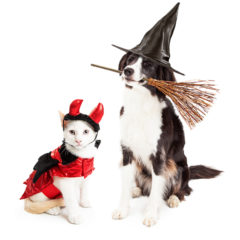 Although we may not believe it, COVID-19 is still prevalent in our daily lives over a year later.  Social-distancing and mask-wearing is still encouraged, and we are trying our best to keep our communities safe during this time in history. Because of this, along with the usual pet safety tips, we would like to add these extra considerations for Halloween 2021:
Although masks are essential for humans, they are not necessary for pets.  It may be tempting to create a cute costume for your pet with a face mask, but it could interfere with your pet's ability to see or breathe properly and may frighten and confuse them. Always do a trial run with a costume at home. Make sure nothing is obstructing their vision, hearing, or breathing. It is also key to ensure they will not become overheated. They should also be able to walk and potty normally without interference from the costume.
Costumes shouldn't interfere with their collars or harnesses.  Every pet should have a well-fitting collar or harness with visible ID tags and an up to date microchip, regardless of if they are wearing a costume or not.
Leave the flexi-leash at home. Flexi-leashes can become a frightening, clattering "monster" behind your dog, if you accidentally drop it during the fun.  This can cause your dog to flee in terror and can result in injury if they run into traffic. Flexi-leashes can also cause serious burns to humans and other animals.  Use a traditional 4 or 6 foot lead instead. A 6 foot leash will keep your dog safe and remind you of the distance that you should keep between yourself and others.
Be safe when passing out candy. Create a barrier for yourselves, your pet,  and the little goblins by using a baby gate at the front door. Remind visitors that you are trying to keep everyone safe by keeping your distance. The baby gate will also prevent your dog from accidentally bolting out the door. Cats are probably best safely contained in a quiet room or in their carrier. If your dog shows signs of stress, move them to a quiet room as well.
Have fun!  Dress up your pet, yourself, and your family. Take lots of pictures to participate in virtual events and costume contests which are sure to pop up on social media! Get creative with backdrops and props but always make sure your pet is enjoying themselves.
Take the time for extra precautions this Halloween by following the 3 W's that the CDC has outlined:
Wash your hands often
Wear a face mask when in an enclosed setting
Watch your distance
Let's all work together so that we can get through this and hopefully be back to a more normal Halloween 2022.
You may also find Halloween collars and tags on The PetLink Store! Place an order by 10/15 to receive your items by 10/31!
(For customers in Alaska or Hawaii, order by 10/10)