Blog: Homemade Dog Cake – Recipe by PetLink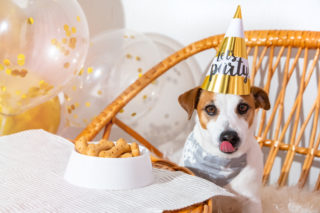 Make a special treat for your special dog friend! Made with love (and ChatGPT), we've created a fun, simple recipe that you can use at any time, to celebrate big events in your dog's life!
Ingredients* (see notes)
For the Cake:
2 cups whole wheat flour
1 teaspoon baking powder
¼ cup unsweetened apple sauce** (see notes)
¼ cup coconut oil
1/3 cup plain, unsweetened yogurt
2 ripe bananas, mashed
3 eggs
For the Frosting:
1 cup plain, unsweetened yogurt
2 tablespoons honey
Dog-friendly food-coloring (optional)
For Decoration (optional):
Blueberries
Sliced strawberries
Dog treats
Tools:
9" round cake pan
2-3 bowls
Whisk & flat spoon
Instructions:
Making the Cake:
Preheat your oven to 350 degrees and grease your round cake pan with coconut oil.
In a mixing bowl, whisk together the whole wheat flour and baking soda.
In a separate bowl, mix the applesauce, coconut oil, plain yogurt, mashed bananas, and eggs.
Gradually add the dry ingredients to the wet ingredients, mixing well until you have a smooth batter.
Pour the batter into your cake pan and put into the oven for 25 30 minutes, until a toothpick comes out clean.
Allow the cake to cool completely on a wire rack before frosting.
Making the Frosting:
Mix the plain yogurt and honey together in a clean bowl. Add dog-friendly food coloring if desired.
Spread the frosting on the cooled cake, then add in your additional toppings such as blueberries, strawberries, or dog treats.
Once everything is done, they are ready to be enjoyed by your best four-legged pal and his friends! For any leftovers: store in an airtight container in the fridge for up to 2 days.
Notes:
*Remember to consider your dog's dietary restrictions before selecting ingredients. Ask your veterinarian if you have any concerns about specific ingredients.
**Artificial sweeteners can be harmful to dogs. Make sure to stick with unsweetened yogurt and applesauce for this recipe. Here is a list of potential harmful toxins that you should avoid ever giving to your pet.
Here is a recommended peanut butter list taken from Dog Lab:
https://doglab.com/dog-peanut-butter/