Blog: Keeping Halloween Spook-Free for Pets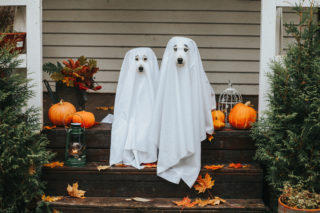 Keeping Halloween Spook-Free for Pets
By Lauren Piandes
While Halloween is full of treats, spooks, and good times for humans, it's often filled with potential dangers for pets! We've put together a short list of ways that you can make the holiday season fun for you and your furry family.
Don't Share Candy with Pets
This one may be seem obvious, but it's something that we must remember before the kids come home with buckets of sweets. Remember the following are dangerous for pets to ingest:
Chocolate
Raisins
Caramel
Hard candy & candy corn
Loose candy wrappers
Gum of any kind
We suggest talking to your children about not offering pets any candy from their bags, as well as being careful with wrappers. This may be a rule that you hold all-year round!
Use Reflective Collars and Tags Before Nighttime Walks
As the weather gets cooler and the days get shorter, it's time to bust out the shiny collars for nighttime walks. Increased visibility for your pets is essential for early sunsets and especially if you take your pet on your trick-or-treat adventures. We have options for cats and dogs in our Reflective Collars Collection on the PetLink Store. You may also browse our selection of personalized collar tags! Both our tags and collars can be personalized with your pet's microchip number and the PetLink helpline phone number.
Smart and Safe Decorations
I think those of us that are super into Halloween (guilty) love the idea of having a bunch of huge animatronics outside your house. If you're lucky enough to have some, you may want to think of a few things before putting together your set up:
See if any of your decorations run on batteries to avoid the use of electrical cords. If that's not possible, you may consider spraying some anti-chew spray on them (usually they come in a sour flavor that animals do not like)
Keep all small decorations and choking hazards in places your pets cannot reach
Pass on fog machines or keep your pets well away from them when they are in use
You may opt for battery-operated candles instead of ones with a real flame
You may also consider, if you have an anxious pet, to skip out on any decorations that move, make loud noises, or emit smoke or flashing lights.
If You're Buying Your Pet a Halloween Costume, Make Sure it is Safe and Comfortable:
According to our friends at Dutch: "The top Halloween animal costumes are:
Pumpkin
Hot Dog
Bat
Bumblebee
Witch
However, you must choose your dog or cat's Halloween costume wisely. Your pet's costume should fit comfortably without restricting movement. You should be able to place two fingers under the costume around their body, throat/chest, and legs to ensure the costume fits correctly and prevent discomfort, which can contribute to added stress."
For additional tips on Halloween safety & costume management, see Dutch's full blog here!
Have Your Pet's Microchip Scanned Prior to Halloween Night
Best practice is to have your pet's microchip scanned at every wellness visit to make sure it is in working order. If you haven't recently been to a vet, or don't have an appointment until after Halloween, here are a few options for you:
See if your community is holding any microchipping events. You can ask if it's okay to get your pet's microchip scanned!
You may get your own scanner from our store. Our F1 Personal Scanner is great to check your pet's microchip in the comfort of your home at any time
We hope you have a safe, happy, and fun Halloween!