Blog: What Makes a Good Photo of Your Pet for PetLink?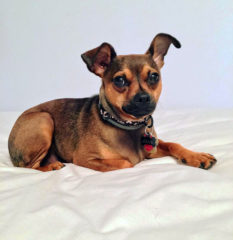 Let's be honest: we LOVE taking photos of our pets. We don't hesitate to take out our phones when they're playing, sitting and staring at something, or doing probably the cutest thing they dare to do: going to sleep. But not all the photos we take of our pets are the best to be shared on social media if a pet becomes lost. What are the best ways to show your pet on your PetLink profile? Here are some simple photo tips:
Make sure the photo is clear and well lit.
A lot of folks take photos in rooms that are well lit in real life, but that doesn't always translate to photos. Even in a room with natural light, if taken at the wrong angle, a photo could come out like this: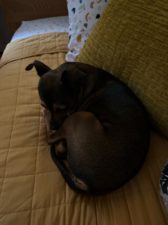 Now this photo was taken in a room that looks like it has natural light at a corner of the room, but the light was behind him, backlighting him.  When translated to a photo it creates a blob of brown! It does not show any of the dog's key features, or any identifiable traits about him.
Now, a photo taken in a well-lit space with the light hitting the pet's face, can come out more like this: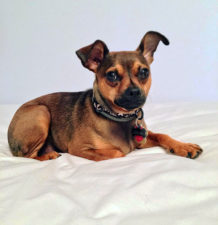 This was taken in a room with natural light and lamps. This photo clearly conveys not only his adorable face (how cute is he?!), but his key features (mostly brown body, black nose and mouth, half down ears), and we can generally tell how large he is (a min-pin mix). All these aspects of the photo will be invaluable to pet rescuers or good Samaritans in a lost-pet situation!
Make sure there is nothing obstructing your pet's body.
When taking a photo of your pet while they are playing, it's inevitable that something might obstruct their body. Here's an example of what we're talking about: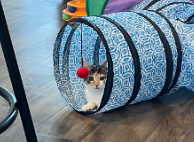 This photo might be cute for your friends and family members who already know what your pet looks like, but this image completely obstructs your cat's body and would not be good to post if that cat went missing. This is how the image should look when uploaded to PetLink: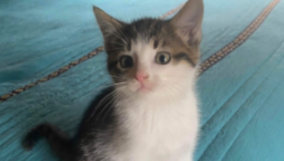 This photo is much more clear, and shows the best features of this adorable kitty. Now, we know that he's got a small body with a dark brown back and white chest.
We also definitely know that he's the cutest.
Make sure that your pet's face is not cut off in any way.
We do get a lot of photos uploaded to pet owner accounts that unfortunately cut off a pet's face in one way or another, and they end up looking like this: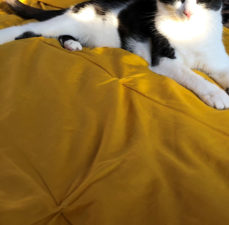 This happens from time to time, and it could be due to someone skipping over the "frame crop" feature that occurs when a photo is uploaded. When your pet is more centered in frame, the photo should upload more like this: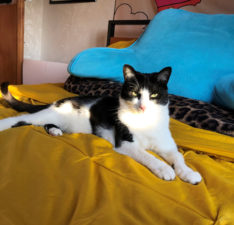 This is a much better photo. We can, quite literally, get the whole picture (and what a beautiful cat he is)!
With those tips in mind, you will always have a clear image of your pet to share on social media, and to post on your PetLink profile!