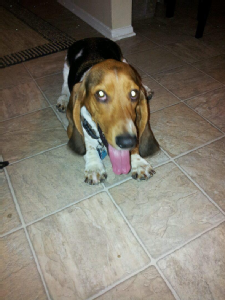 Handsome Howlin Howie, as you can see, is a fine-looking Bassett Hound, and like all Basset Hounds, when his nose hits the ground, he takes off. One day, our girls had left the gate open and Howie was out of there.
He wears a PetLink tag but it had our old number on it. We put signs up saying that Howie was gone – huge 8 x 11 pictures of our Handsome Howlin Howie and drove around all day looking for him. We have a routine of what to do when a pet goes missing – we notify PetLink, the local pounds and vets, put up signs and then we drive around all day. We lost a Weimaraner for nine days once.
The photo of Howie must have showed him at his best, because a guy driving past pulled up and said, "He's right here in the passenger seat." It was kinda dumb luck, but it's nice to have a back up with PetLink.
---