Blog: August 15th is a Great Day to Check the Chip!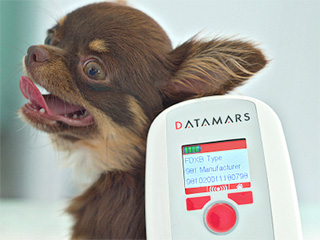 August 15th is recognized annually as Check the Chip Day!   Many people either adopt or purchase an animal with a microchip implanted or have it done at their local vet or shelter but then don't give it another thought.  That would be like purchasing a car and then never checking the oil.  Microchips DO require some attention to make sure that they continue to provide the lifesaving work they were designed to do.
Keeping your microchip information up to date greatly increases the chance that you will be reunited with your pet if he is lost and scanned.  Many pets with out of date microchip information are adopted into new home or sadly euthanized in animal shelters.
At Lost Dogs of Wisconsin we attend pet-friendly events throughout the year to provide free microchip scans for the public.  Many people do not know what brand of microchip is implanted in their pet. We scan their pet to see if the microchip is still working and then help determine which brand of microchip it is.  We give them the 1-800 number of the microchip company along with the following information:
Call the 1-800 number of your microchip company if:
You are unsure if your dog's information is up to date. Your dog should be registered to YOU with your current phone number and address.  A shelter, rescue or breeder may be the secondary contact but you should be the main contact.  You want to be the first person they call when your dog is found.
Your dog goes missing.  The microchip company will "red flag" your dog and note that he is missing.  This prevents someone else from trying to change the microchip information without you being notified.  This is very important for dogs and cats who may end up in shelters far away from where they went missing. They may also put out alerts on your behalf or list your missing pet on their website (but there may be an additional fee for this service).
In addition, ask your veterinarian to check your dog's microchip every year during your annual checkup.   Microchips can move, or can occasionally be deactivated when a yearly vaccination needle hits the microchip.
Just like checking the oil in your car to keep it in tip-top running order, a yearly microchip check can give you the peace of mind that if your pet goes missing he/she has a much better chance of being returned to you!