Blog: Microchips Greatly Increase Chance of Successful Reunion for Long Lost Pets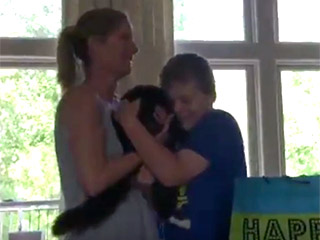 Our motto at Lost Dogs of America is Never Give Up!  Lost pets can be found weeks, months and even years after they go missing.  Not a day goes by where we don't hear of a remarkable reunion from an owner of a long lost pet who feared that the worst had happened. But what we have learned in our seven years of operation is that the worst seldom happens.  Coyotes are not lurking behind every bush; dog fighters are not waiting to scoop up lost dogs and use them for bait dogs; and lost pets are usually way too resourceful to starve or freeze to death.
In fact our guesstimates  are showing that probably less than 10 percent of our still missing cases are deceased.  What does happen to missing pets?  We estimate that about 30 percent are still out there living on their own (and may end up at an animal shelter months or years after they went missing).  We estimate that 20 percent have become lost in the "system" or  wandered far outside their jurisdiction and ended up at an animal shelter or animal control facility where they were either adopted out to a new family or put down.  We estimate that the remaining 40 percent have been either kept or rehomed by the finders.
The likelihood of a lost pet being reunited after an extended period of time is greatly increased if the pet has a microchip with correct contact information for the owner. Most shelters and animal control facilities routinely scan every animal who comes into their care.
Pets who have been kept or rehomed by the finder may escape again and end up at a shelter and be scanned. Also, many veterinarians are now making a microchip scan a routine part of a new client's exam.  We applaud those veterinarians  who are taking this step to ensure more lost pets are reunited with their rightful owners.
In the video below, Sneakers, an 18 year old cat, is home after seven long months because his owners made sure they kept his Petlink microchip up to date. We may never know where Sneakers was all that time but his family is thrilled that he is home!  Watch the video to see the heartwarming  birthday surprise reunion with Sneakers.
Never Give Up!  Get your pets microchipped and make sure your contact information is always up to date. If your pet is lost immediately contact the microchip company to notify them.  Remind everyone who finds a lost pet that they should take him/her to a vet clinic or shelter to be scanned.  We can all work together to make sure we have more happy endings like Sneakers happen!