Blog: National Lost Pet Prevention Month Series #3: Fear and Loud, Noisy Holidays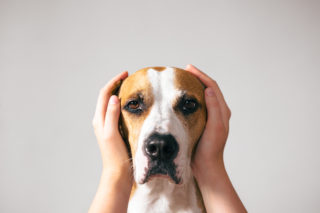 This may be a no-brainer for us seasoned pet owners, but animals become frightened much more easily than us humans do. Sometimes, we have no idea what is scaring them, but they are already halfway down the street before we can process what has happened. To help our pets, especially during loud events or holidays (ex: 4th of July. July 5th is the busiest day of the year for shelters!), we've listed some methods that can calm them and prevent/deter them from running away:
Don't Bring Your Pets into Large Crowds
Ultimately when it comes down to helping your pet feel safe and un-startled, keeping them away from large crowds is the first step. To avoid this, take your dog our prior to going out for the event so they can get some exercise and relieve themselves before the night begins.  If you must let your pet out later, it's best to stand with them in the yard, and check to make sure the gates are closed!
Make a Safe Space for Your Pets in Your Home
If you know your neighbors like to put on their own fireworks show during the big holidays, you may want to prepare your pet for this stress.
Close all the doors and windows to try to muffle the sound as best you can
Play with your pet a few hours prior to the noises so your pet may sleep through them
If you plan on staying home, give your pet lost of cuddles and love while the event is happening, complete with comforting blankets and toys. You may also go to your local pet store and pick up some calming aids and binding shirts to soothe dogs while the events are happening. If you plan on going out, make sure to leave your pet in a room where they can't hear the noises as much, and leave them with food, water, and their favorite playthings.
Prior to the Event, Update Your Contact Information in PetLink
After your pet's microchip is checked, login to PetLink and update your contact information. Make sure your address is accurate, all your pet's details and photo are up-to-date, and add in emergency contacts just in case.
Lastly, you may want to grab some collars and tags from the PetLink store, so everyone knows, at-a-glance, that your pet is registered in PetLink should they become lost! We hope these tips help keep you and your pets fear-free!