Blog: Preparing Your Pet for the 4th of July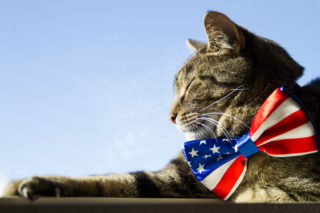 It's almost July and you know what that means: barbeques, open doors, fireworks, and scared pets. This time of year can be especially frightening for our furry friends. In our experience at PetLink, July 4th is our busiest holiday for lost pets in the whole year. Here are some ways that you can prepare your pets and keep them safe and calm before and during the celebrations:
Take your dog out for plenty of exercise during the day before the festivities begin
Keep pets indoors. They may feel safer if they are placed in a smaller interior room with a radio/tv playing.
Close your windows. Dogs in particular can try and get out of the house by pushing out the screen.  Dogs have been known to bolt through screen doors, so keep your inside door closed.
Check your fence line for loose boards or openings that your dog could slip through or dig out of.  We suggest you even keep a leash on your dog and walk him/her in the fenced yard during peak fireworks times. Never leave your pet unattended, even in a secure yard.
Have current, clear photos of your pets on hand and uploaded to your PetLink profile just in case. If they do go missing, you will want to be able to quickly create flyers to distribute in your neighborhood. Upload your latest photos to your pet profile(s) on PetLink.net.
Make sure all your pets are registered and your contact information is up-to-date in your PetLink account, and that they are wearing visible ID such as collars and tags that display their name and microchip number clearly.
If you have outdoor cats, make sure they are inside before nightfall during this season.
Provide a safe space for pets to retreat such as a closed room with their favorite toys, blankets, pillows, and plenty of water.
REMEMBER: if your pet gets scared by the fireworks and escapes from your property, don't panic! They are generally running away to find a hiding spot away from the loud noises and flashing lights. Do not chase or whistle for the animal, as it may make them more distressed. Alert local authorities, animal shelters, and put in a Lost Pet Report with PetLink*.
Once your pet is found, remember to close the Lost Pet report! Read our step by step guide for what to do if your pet gets lost.
We wish you a happy and safe 4th of July!
*You will need to contact all three of those sources individually, as they do not cross-communicate.