Blog: Spring Cleaning and Decor for Cat Owners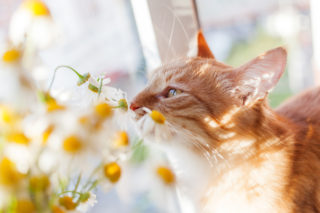 For cat owners, everyday might be a cleaning day. However, while you're prepping for warmer weather it is important to get in a real good clean for your cat! Here are some ways you can prepare your kitty for spring:
Check Your Cat's Microchip Information
Need a new photo of your perfect angel? Is there an additional contact you'd like to add? Login to your PetLink account and make sure all the information listed is up to date. With windows opening to let in that warm breeze, it's worth it to double check.
For additional safety measures, you can check out our line of cute, spring-time cat collars that may be personalized with your pet's name and microchip number!
Brush Out that Winter Coat
As alluded to above, your cat may be shedding all year, but especially at the change of season. You may use a de-shedding tool from your local pet store to help cut down on extra fur and hairballs (and, let's be honest, give your cat the spa day they deserve).
Give that Litter Box Some Love
It may be our least favorite chore but making sure the litter box is clean is essential! Completely empty the box, give it a good scrub, and leave it to dry in the sun outside. Your cat will might thank you later.
Audit the Toy Collection & Clean the Tree
As a cat owner myself, I know what it's like to treat your perfect cat son (or daughter) to 1 million toys. Now is the best time to audit that collection. It's time to fix, patch, or throw away anything your cat does or does not play with! It also does not hurt to wash or vacuum their beds and cat trees.
Reconsider Some Popular Plants
You might be tempted to run to the local plant store and spruce up your place but remember that there are certain houseplants that are very toxic to our furry friends. Some of these plants include:
Lilies
Aloe
Monstera
Pothos
Jade
Snake Plants
Sago Palm
English Ivy
Don't fret! Here is a list of cat-safe plants that you can still enjoy in your home:
Ponytail Palm
Air Plants
Hibiscus
Bromeliad
Kimberly Queen Fern
Succulents
Spider Plants
Majesty Palm
No matter the season it's best to keep a clean, non-toxic home for your pets, whether they appreciate it or not!