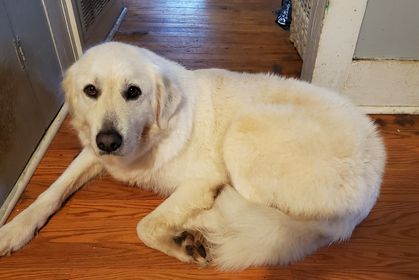 I just wanted to thank PetLink for helping reunite me with one of my two missing dogs. I had a pair of Great Pyrenees stolen from me in 2020, and on January 8th, 2022 I got not only a call from a vet, but a text from this company about a pup of mine that had been found. It was my girl, Willow! It is only been almost two years but it was to the point I had started to give up on ever seeing her again.
Willow has a list of medical issues that she is currently dealing with, and is very jumpy and scared of her own shadow. If you move too fast she cowers and whines as if she is about to get hit. She is slowly coming out of her shell, but otherwise is doing good and on the road to recovery.
It was a good 8-hour round trip to get her so a little spur-of-the-moment planning came in. But I am happy to have her back home and pray the same happens for my boy. According to those who found her, Willow had been running scared along a Busy Highway in Honea Path, South Carolina. Some kind people took her in while hoping to find her owner, then another lady stepped in due to Willow's fear of people and had her vet come scan her for a microchip. Then it went from there to contacting me and well. Now she is home!
---