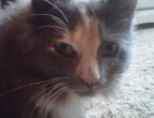 The above referenced cat, Bunny, has been reunited with us, her family! Amazingly, Bunny went missing on November 27, 2013, nearly 7 years ago! We honestly never thought we'd see her again and it is absolutely 100% is because of her microchip that she is back with us.
Our family rescued Bunny when she was 3 weeks old. We bottle fed her and she was the baby of our home. All of our dogs and cats adored her. When she went missing the guilt and agony we felt was overwhelming. To have her back is a second chance to give her the life she deserves and let her know that she doesn't belong alone, hungry, or afraid on the street.
I hope that people will learn from our story that you MUST microchip your pets and never stop looking or lose hope.
---