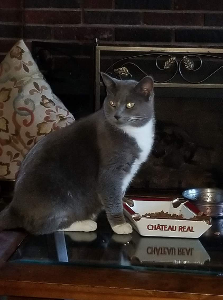 Our Rosie is an indoor/outdoor cat and she had always joined us for walks around our property. She kept our ground squirrel population under control while always coming in for the evening for the love, food and attention every family member receives. Last Halloween we were returning late from an out-of-town trip and our elderly mother let Rosie out of the house as usual. She never returned.
I prayed that someone had picked her up. Knowing that there were probably new people in the neighborhood trick-or-treating, I thought they might have assumed Rosie was lost. All of our neighbors have already met Rosie on our frequent walks and know that she comes home to us every night. So, I hoped that someone would find her and take her to have her microchip scanned and that she would be returned to us. Unfortunately that didn't happen. We were devastated. We had just lost our dog to stomach cancer and now our feline Queen was gone!
Fast forward six months and we received an email from PetLink and an animal clinic three towns away. A kind lady brought our Rosie in after a neighbor called her about a cat who was scratching at her glass window. As Rosie has always been friendly they easily caught her and brought her to the clinic to see whether she'd been reported missing. I have had flyers up all over our neighborhood for the last six months and never gave up hope that someone local had taken her in.
Had it not been for her PetLink microchip, I wonder if we would have ever found Rosie twenty miles away from home. Thank you so much for this service, the posters and the quick response to connecting us with our beloved Rosie. She is about eight lbs overweight so we guess that whoever had her just kept her indoors and fed her. We will have to get her to a healthy weight again but she is home now and ready to walk it off around our familiar neighborhood, all in all, a very good thing.
---