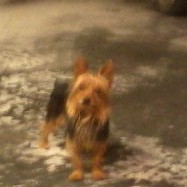 Our Yorkshire Terrier, Tommy, escaped at a time when it was pouring rain and the traffic was heavy. We went out looking for him but he was nowhere to be found. We thought we would never see him again. Yorkies can sometimes be picked up by strangers and kept or sold.
I immediately posted on PetLink that Tommy was lost and the very next day I got an email that Tommy had been found. Right away I contacted PetLink and they put me in contact with the person who had Tommy. That very same day we brought Tommy home.
The person who found Tommy took him to her vet and they scanned his microchip. That is how she knew to contact PetLink and let them know that she had Tommy. Thank you so much for all your help in getting Tommy back. I am glad we had you, PetLink!
---