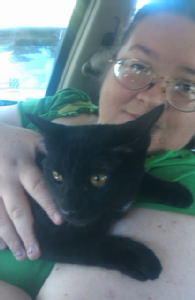 We were in an awful car accident at the end of a Tahoe vacation in December – we were struck by an out-of-control pick-up truck. Our car was completely ruined, my wife got some broken bones, and our cat Luna Star, who was traveling with us, escaped from the car and ran away into the woods. I searched for her twice that night, and went back twice more over the following days, spending hours in the snow calling her name.
We then printed color flyers and distributed them around the surrounding neighborhood – which wasn't much, since the accident was in a rural mountainous area with no residences around. Meanwhile, my wife was laid up in bed with a fractured hip, unable to walk. We had to move on, leave the region and begin to get our lives back together.
The Truckee Humane Society told us not to worry too much about Luna Star, that she would probably find bugs to eat. Meanwhile, there were winter storms occurring throughout the month, with low temperatures and heavy snow. After some weeks, we became resigned to the likelihood that Luna Star was a goner. But a month later, to the day, we got a phone call from the county's animal control services, saying they had found Luna Star alive!
Luna Star was located a few miles from the accident site, and the team got our phone number from PetLink. They even drove Luna Star half-way to our location, so we didn't have to go all the way back to Tahoe. Luna recognized us when she heard our voices in the lobby, and she seemed very relieved to be with us again. Luna had lost all her excess weight; she was just skin and bones, and there has been a period of recovery for her, but she's the same kitty and we're all happy to be together again.
I admit that I used to be indifferent about microchips in pets. I didn't really know how or whether they worked. We inherited Luna, and she was already registered with PetLink. Well, I can say now that I am impressed that the system really does work. I am amazed that Luna was returned to us so easily. Thank you, PetLink!
---