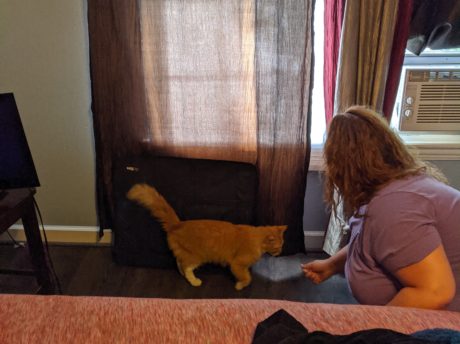 During an unexpected move, we were packing up our stuff Maui managed to get out and run away. We looked for weeks and couldn't find him anywhere. We were moving to Missouri from Ohio and thought we were never going to see him again.
I woke up 4 days ago to an email, text and a phone call. I tried to call PetLink and the call kept dropping. Then I looked closer at the email and saw there was a name and number of the person who had finally found Maui.
I called her and left a voicemail, not even 20 minutes later we got a call back.
I was excited  to hear back from her. She told me that Maui followed her home from a her walk and he was so sweet so she just knew he had an owner. She decided to take him to her vet and get him scanned. They found the chip and then reached out. I am very thankful that she found us and we were able to reunite with our fur baby 8 hours away.
Today is the day we met half way to get our fur baby. There is much rejoicing all around! PetLink microchip was the only thing that was able to get us back together again.
---