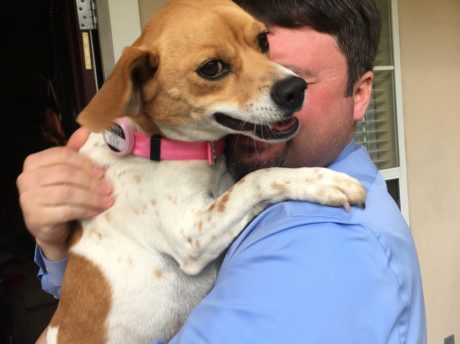 Our beloved dog Sarah went missing the morning of September 23. We placed flyers everywhere locally and at the animal shelters and vets. I called them all almost daily. Thankfully we had microchipped Sarah a month before she disappeared. I posted so many lost pet photos on Facebook and received so many prayers. I drove around neighborhoods and talked to strangers. No one but one lady could remember seeing her but after that we lost the only lead we had.
I never lost hope that Sarah would be found. I prayed and worried constantly and then, once I realized I had done all I could to look for Sarah, I could finally rest and let God take over.
On the morning of October 24, a full month later, I was parking at work. I received a text notification telling me that Sarah's chip had been scanned and she'd been found! Praise God! I called PetLink right away and the kind man I spoke to told me she was at an animal shelter, safe and sound! I rushed to buy her a new collar and leash and sped to the shelter! We were so happy to see each other! Sarah jumped all over me in joy! I couldn't believe she was alive! Turns out she'd been dumped on the other side of the river where animal control scanned her!
I want to say thank you to PetLink for saving Sarah and to all owners out there – get your pets chipped!
---