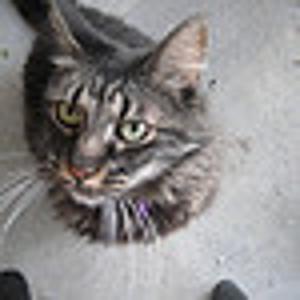 Tucker is my frequently confused, 14-year-old Maine Coon. Tucker's eyesight and hearing may be starting to go, too, so how he escaped my second-floor balcony without hurting himself is a mystery! He doesn't even jump up on anything anymore, he just hangs out at floor level.
Tucker was found, probably not long after his escape, by an Animal Shelter officer, who, amazingly, was passing by at the time. He was just sitting in the middle of the street. The officer picked him up and took him to the shelter, which was closed that day, so Tucker was not formally admitted. Instead, the officer was able to find me through his microchip number and called me the next day. PetLink was the contact which put the shelter officer in touch with me. Scanning Tucker's microchip provided a quick, magical connection between her and me – this lost cat's very worried guardian!
I'd spent some of the previous night and much of the morning traipsing around the neighborhood calling Tucker's name. It was SUCH a relief that he was found so quickly and was safe, given his age and problems. The shelter officer went above and beyond the call of duty in her efforts, including contacting my vet's office (it turns out she and I share the same vet!) and checking Tucker's vaccination status and health history.
Later that afternoon, she and I met up for my reunion with Tucker. I am so truly amazed and relieved. What are the chances of these events even happening? We are SO lucky!
---