Blog: Get Up and Go! Why Walking Your Dog is so Beneficial for You (and Them!)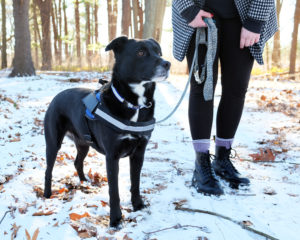 It's Walk the Dog Month! You might be thinking, "hang on, why would we have walk your dog month during one of the coldest months of the year?" While it might seem strange, it's the perfect time to find extra inspiration to get out of the house and take your dog for an adventure in the colder weather (at least it's cold up here in North America). Hopefully the following will inspire you to get up and get walking!
Walking & Routines Better Your Overall Health
It's no surprise when January comes around that gyms are more crowded than normal. Everyone is trying to get into the "new year, new me" mentality. Creating a walking routine with your dog is an excellent start! Walking improves your cardiovascular fitness (heart health) and builds healthy muscles and bones over time. Of course, walking is also extremely beneficial for your dog. According to a study done by PetMD in 2017, 56% of pet dogs in the US were considered obese or overweight. The best way to contribute to a pet's weight loss and health is to stick to a walking regimen. Getting them out and about will help weight management and contribute to their overall happiness.
Walking and routines also significantly lower our blood pressure, AKA stress levels, in both you and your dog. Dogs thrive on routines and sticking to a consistent routine lowers your dog's stress and helps them bond with you. Humans also benefit from a daily routine, which was especially evident in the peak of the COVID-19 pandemic. In a quote taken from Indumethi Bendi, M.D at Piedmont, "Carrying out routine activities reduces stress by making the situation appear more controllable and predictable."
There is a reason why animals are assigned to folks who struggle with PTSD and other psychological disorders! Being with an animal, petting them, and yes, walking them, is a natural relaxation agent for humans and can help release serotonin into our systems.
Get the Right Gear
If you don't currently have a walking routine you may be asking, "well, how do I start?"  First, you should get the right gear for the job:
A collar
A collar tag or tags
A sturdy leash
A no-pull harness that helps maintain control of your pooch
All the items listed above can be found on The PetLink Store. All of our collars and tags can be personalized with your dog's microchip number and the PetLink Hotline phone number for visual representation that they have a microchip.
Switch Up Your Walking Spots
We just talked about routines, but it is also beneficial to switch up your walking spots every now and then! Going to a new park or walking trail every now and then can help maintain excitement in your adventure together and provide some new visual stimulation for the both of you.
Dress for the Weather
Again, there is a reason that Walk the Dog month takes place in January, but we know it's not easy. Up in northern America, we're used to throwing ice melt all around when everything starts to freeze over, but this can make for treacherous pathways for our pups. You may consider putting booties on your dog's sensitive paws. You may also get your pup a jacket to protect them further from any coldness you may experience where you live.
We hope that these tips will inspire you to get out and get walking with your pup in 2023!