Blog: Holiday Safety with PetLink in 2020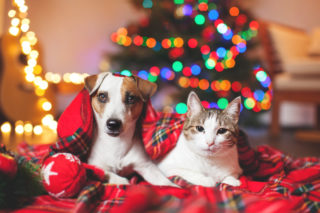 The holidays are fast approaching and 2020 is finally ending! While the festivities might be quieter than normal, you may still choose to get in the spirit with the people you live with or with those in your social bubble. Even small celebrations could be hazardous to pets, so here are some ways that you can celebrate the season while keeping your pet's health and safety top of mind.
Update Your Pet's Information in PetLink:
At the start of a new year, it is always good practice to log in to your PetLink account and update your pet's information. If you have recently changed addresses, phone numbers, or need to add an emergency contact, there is no time like the present! It is also good to upload a recent photo of your pet to their profile.
A note on Visual Identification: Make sure your pets are decked out with some visual ID (a collar tag or collar with your pet's microchip number), so should they become lost, their finder will know that they are microchipped.
This can expedite the reunification process and make sure your pet gets back in your arms as soon as possible.
Mealtime Caution:
No matter what you celebrate or who you celebrate with, you may still engage in some sort of traditional holiday meal. This does not mean your pets should join you! Here are foods to keep far away from your furry friends:
Alcohol
Avocado
Candy
Chocolate
Citrus
Coffee & Caffeinated beverages
Garlic
Grapes & Raisins
Ice Cream
Mushrooms
Onions
Tomatoes
These foods are toxic for both dogs AND cats. If you want to treat them to something special, you may find holiday treats for them at your local pet store.
Dangerous Décor:
Glass decorations and real flame candles are appealing to pets and can cause serious injuries (or a fire) if knocked over. You may opt for battery-operated candles, plastic ornaments, and non-tinsel or thin-ribbon decorations to avoid any serious hazards.
To prepare your home for any sort of fire-related emergency, visit the PetLink store and shop our pet emergency items.
Traditionally holiday plants are also not a friend to pets: holly, poinsettias, mistletoe, lilies and amaryllis are all toxic if ingested. Getting realistic-looking faux alternatives will keep your pets safe (and will last longer!).
Christmas Tree Tips:
If you get a real tree for the holidays, remember that standing water and pine needles can cause intestinal damage in animals. Sweep around the tree often and avoid adding chemicals to your tree's water.
Safe Spaces:
Give your pets a safe space to get away from accidentally dropped food and any unwanted touching, if you choose to host a small gathering. Make sure to leave them with their favorite toys, blankets, and a bowl of water.
We hope that you keep these tips in mind and hope you and your families have a happy, healthy, and safe holiday season!