Blog: Including Your Pet in Your Emergency Plans for Disaster Preparedness Month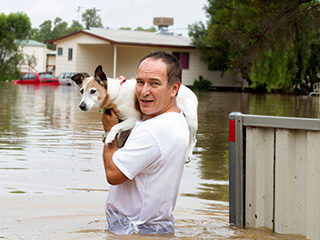 September is Disaster Preparedness Month! Our pets depend on us to keep them safe, so we must remember to consider them when creating emergency plans. We've compiled some tips to help you to build your own emergency kit and plan at home:
Prepare an Emergency Kit that Includes Pet Supplies
When you're planning a kit for your family, make sure to pack one for your pets as well. Your pet kit should include the following:
Food bowls & water bowls
Food & treats
Toys
Blankets
Portable litterbox with kitty litter (for cats)
Extra leashes, harnesses, collars, and collar tags
Medications & important health documents (more on this below)
Testing the extra collars, leashes, and harnesses prior to putting them in your kit is essential. You can purchase collars and tags personalized with your pet's name and microchip number on the PetLink Store.
Update Your Information in PetLink
Whenever you get a new phone number or move to a new home, you should always login to PetLink and update your information. A microchip can only do its job if you are able to be contacted should your pet be scanned by an animal professional.
Remember that you can register any microchip into the PetLink database. If you have multiple pets in your family, you can register them all in PetLink no problem!
Ask Your Veterinarian for Copies of Important Health Documents
If your pet is on specialized medications or needs medicated food, it is not a bad idea to ask your vet for copies of any documents you might need to hand to a veterinary service provider should there be an emergency.
While at your vet's, ask them if they can scan your pet's microchip to assure it is in working order. If you can't get to a vet easily, you may purchase your own F1 Personal Scanner from the PetLink Store to check your pet's chip at your own convenience.
You may also consider getting pet insurance for your pet family. You may get a free quote from FIGO here.
Create an Exit Strategy for Family That is Pet Inclusive
Coordinate with your family and friends on how you will handle a potential emergency, and who will oversee your pets are safe and cared for in those situations. Example: a family member is designated to get your pet's leash on or put them in their crate as soon as possible if something happens. Their job is to get the pet/pets out and join the rest of the family is as soon as possible.
Away from home? Have a neighbor or close friend designated to check on your pets and get them out of the house should you not be home when the emergency occurs.
You may also consider purchasing some of our Pet Emergency Window Clings. Place these clings on windows and doors to let emergency responders know that pets are inside your house.
We hope that these tips are helpful to you and your family! Have a safe and happy autumn!