Blog: Thanksgiving Travel Tips for Pets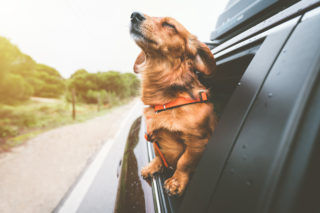 The holidays are right around the corner and some of us may be preparing to travel to see relatives and friends this season. You may be planning to bring your furry pal with you, and that's where PetLink comes in to help! Here are some tips on how to prepare your pet for holiday travel:
Make Sure All Your Information is Up to Date in PetLink
First thing's first: Login to PetLink and make sure that your pet's information is up to date in the database. You may also want to add an additional contact, as well as making sure your phone number is correct.
Additionally, you may want to make a trip to your vet or use our F1 Personal Scanner to make sure your pet's microchip is in working order before hitting the road. Your vet could also provide you with any medical information/documents your pet may need while travelling.
Update Your Pet's Collar and Tags
Before heading out on your trip, make sure your pets are equipped with a collar and collar tag that have clear instructions on who to contact if your pet should become lost. On the PetLink Store, we have plenty of options for personalized collars and tags that can express your pet's personality while also letting folks know that they are microchipped should they be lost.
Pack Your Pet's Favorite Toys and Treats
Keep a short checklist of things that will help your pet feel comfortable and happy on the road:
Favorite / comforting toys
A fresh bag of their favorite treats
A comfortable place to cuddle up and sleep
Blankets that smell like you and/or your home
This list is mostly applicable to when you're travelling via car. By plane, you will have to speak to your airline on their guidelines for bringing companion animals into the cabin vs. the cargo area.
For flying, we recommend that you supply your pet's crate with absorbent materials such as pee pads as well as fluffy and comforting blankets. There are also water and food bottles that can be attached to the crate. Pet Travel Store has both crates, and their various accessories!
We hope you find these tips helpful and have a wonderful time with family and friends for the holidays!