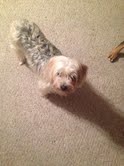 Posted: September 17, 2012
I am going through a divorce and, a few days ago, my ex-wife told me and our four kids that our pets had been adopted by a nice family in Pennsylvania. So, when, the next day, I received an email from PetLink saying my dog, Koala, had been found, I was shocked. I was told to call another number to be reunited with Koala, so I did, and they advised me that he was at the Atlantic County Animal Shelter, NJ.
This shelter is a kill shelter. The day I discovered where Koala was, the shelter was closed and I couldn't go directly to his rescue, adding to my concern. But, I went the next day and, sure enough, Koala was there.
When I called his name, I heard barking. I looked behind me, and saw that my other dog, Chilly, was there! The shelter had Chilly listed as being found in a different part of the state. Next, we went into the cat area, and my cat, Carmela, was there too! Her paperwork stated she was found in yet another part of NJ.
Koala was the only one with a microchip, but a total of three of my pets were at this shelter because they had been abandoned. Without this microchip, I never would have known, but now, I was able to get them out of the shelter and into caring homes. It cost me $115 to have them all readopted, but it was well worth it. I found great homes for Koala and Carmela. As for Chilly who is twelve years old and a mix of Doberman, Rottweiler, and Shepherd, my brother in Minnesota is taking her.
The great part of this story is that, without PetLink, I would never have been able to find these animals.
---