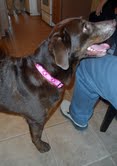 We were able to get our Labrador Retriever, Rajah, back because she is microchipped. Our yard is fenced and she dug a hole underneath the fence and was gone for some time before we noticed she had escaped. Labs enjoy running and that is exactly what she did.
I went online to post that Rajah was gone, we were looking and looking and we posted signs. When a lady found Rajah, over two miles from our home, she had her for a while before she called animal control. But when she saw the signs, then she was able to have them run Rajah's chip and confirm she was ours.
It's a true blessing for us having our Rajah back home and without the PetLink chip we may not have ever got our family member back.
---