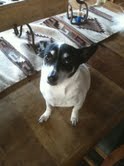 The PetLink system worked like a charm reuniting me with my Chihuahua, Lilly. She's very afraid of the weather, especially thunderstorms. She has a doggie door to get back inside, but every now and again she gets under the fence.
On a Monday afternoon she got out and ran up the road to a building site where they are constructing new homes. The realtor sales lady saw her there just as it was starting to rain. I got home to find Lilly was missing and put signs out but by Tuesday, no one had called. I thought to myself, 'Someone's found her and is keeping her – I've lost her' as Tuesday night rolled by, hoping that maybe, in a few months I'd get Lilly back.
I have a second dog, a Papillon, Henry, who, fortunately, is not one for tunneling. But Lilly's a free spirit. I've had her for six or seven years and she likes to roam. She really likes people, she's the ultimate lap dog – just scratch her ear and she'll follow you. Lilly's a great little dog but it's too difficult to keep her in.
In fact, Lilly was safe and had been picked up by a young woman who had to attend a funeral on the Tuesday after she found her. The girl wasn't able to take Lilly to the vet's to be scanned until Wednesday. She discovered through PetLink that Lilly belonged to me and it turned out she worked right by my office. We got connected and the girl texted me photos as I sat in a meeting. PetLink worked perfectly and I'm going to get the girl a gift certificate for finding Lilly.
---