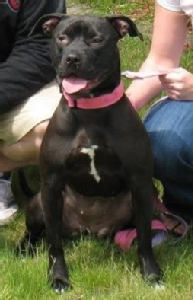 We had just adopted our Pit Bull, Mila, from a local rescue and she was getting accustomed to her new surroundings. We hardly ever leave her alone so initially the microchip seemed pointless to me. At a loose end one Saturday, I decided to register her anyway, just in case.
That following Monday, just two days later, I had just come home from work and noticed Mila was nowhere to be found. It's not unusual for this to happen seeing as my fiancé owns a landscaping business and he tends to take her along most days. The only odd thing was that her collar and ID tag were on the front lawn.
Unfortunately, I had no idea that Mila wasn't safe with my fiancé until I checked my voice messages. I had received a phone call from our local animal control facility saying that they had our Mila. She had no tags so they were able to get our contact information through her microchip. Once her microchip was scanned, PetLink immediately contacted me via email.
I called my fiancé to see if he had Mila or had gone to get her already. I checked my emails on my smart phone and noticed I had received two messages from PetLink notifying me that Mila had been found. It all happened very quickly and Mila was returned to us within a few hours of her escape. We are so grateful for PetLink! Without her collar and ID tag she appears to be a stray or abandoned dog. Thankfully, the technology helps prevent silly incidents like this and also stops little two-year-old girls from being devastated when they learn their best friend is gone!
---