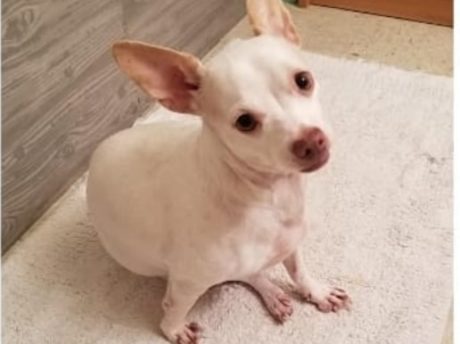 We took our sweet, friendly boy outside for a restroom break while I grabbed some potted plants to rearrange and astonishingly, a car pulled up and took Apollo from our driveway! It happened so fast and was completely unexpected. We knew the thief wouldn't risk taking him to a vet anytime soon, nor return him, and our hearts were shattered. We reported what little details we knew, and felt utterly helpless as the days turned into a week and kept going.
It was the longest we'd been separated. Apollo has special dietary needs, skin allergies, we needed him home not just for his sake, but for ours, too. He'd been with us for 10 years, initially as a companion to our first adopted dog who suffered anxiety, then for our children to come.
Then I got a call from PetLink that Apollo's chip had been scanned! We quickly coordinated a reunion and I had driven over a body of water and into another city to see that wonderful little face again! Apparently, a woman had gone to a Sonic Drive-In and saw our Apollo wandering, she picked him up and as it was late, took him home and then to the vet the following morning. What a blessing! Apollo had been given food his little body couldn't digest and had made him sick. We're assuming after many messes in his captors home, they must've put him out to do his business outside, where he bravely escaped, as we're hoping they didn't just toss him out to fend for himself. He had on a really used up collar, perhaps from a previous companion of theirs; they had no intention of bringing him back.
We're just so glad we invested in having our Apollo microchipped that we were able to get him back safely, . He readjusted after a couple days and has been wonderful ever since. All our adopted pets have microchips and we wouldn't have it any other way. Any future pets we get, and ones we meet through friends, we always ask and recommend they get microchipped. It is peace of mind, and that is priceless.
---