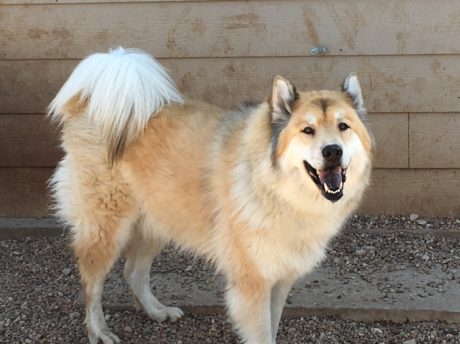 Brody is a 9 year old Husky mix who's life goal is to escape the backyard and run free! We take him to doggy daycare twice a week to run with his friends, but it's just not enough for him. Little things such as: not knowing his way home, not understanding cars, the fact that we live in Texas and there are rattlesnakes and even coyotes,  do not faze him in the least.  All he sees is a squirrel and he is gone!  We have a high fence, but our uncaring homeowners association only allows wood fences and believe it or not, he eats his way through them!
August 4th I called him to come in and eat supper and he was gone. We found another big hole in the fence AND in the process he had lost his collar, so he has nothing to identify him.  Usually this means he can only get to the neighbors and I go and retrieve him from their yard, but they had left their gate open and he was just gone.  We hunted all over the neighborhood, but not a trace.  I was devastated! I made up flyers I was going to put up in the morning. Needless to say, it was a long night.
But thanks to a wonderful good Samaritan who came across him,  convinced Brody to come to him and took the time to have him checked for a microchip and PetLink's service identifying us. We had him back the next day!  He was found in the next town!  I don't know how he got that far without being hurt, but I know without PetLink it's unlikely we would have found him that far away.  Thank you Good Samaritan and PetLink, you are my heroes!
---