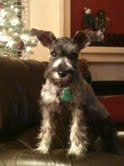 Posted: November 27, 2012
The Payne family is thankful for a wonderful woman and to the vet and to PetLink for reuniting us with our precious one-year-old Schnauzer, Gracie, who escaped our fenced yard last week.
Apparently, the kind woman found Gracie near a school amid busy school traffic. After spending some time canvassing the neighborhood, she ended up taking Gracie to a nearby vet in hopes that she was microchipped. Thankfully, Gracie is microchipped which resulted in an email from PetLink saying she was found and a call from the vet saying they had Gracie safe and sound waiting for us to pick her up.
Please microchip your pet – it really works! Thank you again to all for reuniting us with our beloved Gracie.
---