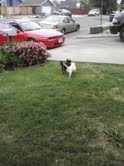 My brother-in-law was unloading groceries into the house. He looked for my Chihuahua, Peluche. He thought maybe he was in the back yard but Peluche didn't show up. Peluche is in love with another dog. This female dog drove him crazy and maybe he took off when he saw her.
Everybody was at work and my brother-in-law was very worried about the dog. I came home from work at 7.30 and my sister told me Peluche was gone. She told me what happened and I started looking for my dog. At 9.30 p.m. I was screaming "Peluche! Peluche!", thinking that if I called him he'd start crying back at me and I'd find him. Then I thought maybe someone had found him and kept him.
I carried on looking, calling at houses, door by door. We all looked until midnight in my car, screaming for Peluche. Back home, I decided to leave my window open to hear him barking if he returned. But then, at 3 a.m. there was still nothing. My brother-in-law and I were very upset. He went to the local pound and called the other pound, filing a lost dog report.
He loved that dog too, because he rescued it from a bad owner so I could have company after my mother passed away. My co-worker told me to go to the vet and that's when I learned that they found Peluche by a railroad near the freeway. It's hard to say how he crossed the busy streets safely. He only measures 15 cm, he's so small.
A guy found him, trying not to hit him. He saw Peluche had a harness and was not a street dog. Then he realized he knew this dog! We take Peluche everywhere – Costco, Macy's, he's very popular. The guy who found him works at Costco and carries our groceries. I have a fancy red car, like a Ferrari, it's pretty attention-grabbing. He recognized the dog and remembered my car so he kept Peluche over night, trimmed his nails, very fancy, and took him to the vet. They scanned his chip and PetLink contacted me. The guy was so kind, he wouldn't accept a reward.
I'm so happy PetLink helped me to get Peluche back! My brother-in-law, my sister and myself all love our pet, Peluche, so much.
---