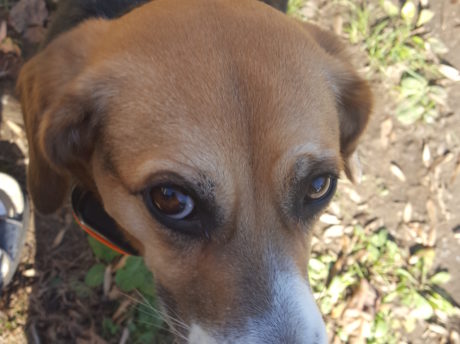 Posted: December 28, 2018
On Thanksgiving, my Labrador Retriever Shadeaux and my Beagle Bella found a way out of the fence of the home we recently bought. They both traveled a mile away to a Dollar Tree where I think they were looking for doggie treats.
I drove around the neighborhood until 4 o'clock in the morning looking for them and I missed a great Thanksgiving dinner. I had to try and find them as quickly as possible before they wandered off too far to find their way back – and that's exactly what happened.
Many thanks to Kimberly, the sweet lady who took my girls into her home, gave them a bath because they were covered in motor oil, and let them sleep inside her house for the night. I owe Kimberley more than she realizes because those dogs mean the world to me.
PetLink is the GREATEST. They sent me a text mail saying that Kimberly had found my dogs and was caring for them until they could be reunited with me. They gave me her phone number so I could arrange a time to get the dogs. My wife has our only car so Kimberly kindly dropped them off to me. What a sweet, sweet, beautiful lady! Most people would just throw them in the backyard and wait for the owner to pick them up.
Many thanks to PetLink. I'm glad I had my dogs microchipped through you. They were too far away to find their way back home and I honestly thought I would never see my girls again.
This world needs more people like Kimberly and a great company like PETLINK. Remember readers and always get your loved ones microchipped through PetLink. I have four female dogs and they are all listed with PetLink. I've tried other companies and they truly don't care about your animal. PetLink is different. They're the best!!
Thank you! Thank you! Thank you! I GOT MY BABIES BACK!!!!!!!!
---