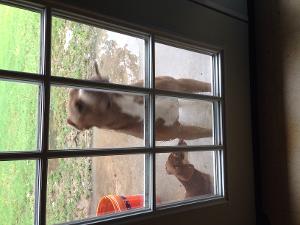 Posted: December 13, 2013
I guess those walks around the block helped my baby get home soon! When my American Pit Bull Terrier, Kilo, went missing, I had the worst two days of my life! All the time he was gone I was imagining the worst that Kilo could be going through and thinking what would happen if he was picked up by people with bad ideas. It was absolutely the worst feeling in the world, like missing a part of my family.
He came home hungry and thirsty early in the morning at 4:45 a.m. One of my neighbors suggested I should ground Kilo for getting out of the fence but I just can't. I think the fact of him having been without food is grounding enough! He must have been so cold the night before he came home. Kilo has got to be one smart dog to have come back home in just two days. The tears I shed and the pain I felt from missing him were really difficult to deal with. Even though I had the security that he was registered with PetLink, I was especially worried going to sleep and having nightmares that something could happen to him. Now we're all good. Hugs and kisses to and from my baby.
---