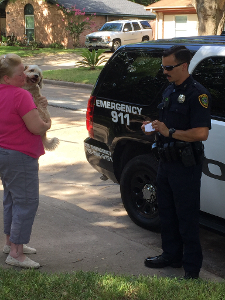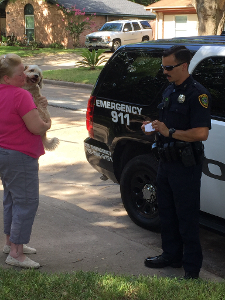 Posted: September 4, 2015
One morning not long ago, our dog, Logan, got out at the same time as our newest adoptee, LadyBug, who had been with us just one day when she saw an open door and ran! Logan has a bad front left leg and his left hip is just as crocked, meaning that he limps along, but not fast. While we managed to catch LadyBug in forty-five seconds, Logan disappeared into thin air!
Logan is a very unusual mixed breed combining Petit Basset Griffon Vendeen and Lhasa Apso and my husband and I suspected that people on the next street, who had been eyeing Logan, had taken him. We went to the house and thought we heard Logan bark and whine but the man inside said he didn't have our dog, and that the barking we heard was from his dog. After looking for more than seven hours in 100-degree heat, I called the police and gave the officer Logan's picture, his medical information and the address where we feared Logan was being kept.
The officer got Logan back and we are figuring out whether to press charges on the family who held on to Logan. The clincher in identifying Logan was a sideways tooth and we thought we could always use his microchip for proof of ownership too. However, that night we learned that although we thought our old vet had chipped Logan, in fact he had no chip. PetLink made us realize that our two newest adopted pets also needed to be chipped. Now all six of our four-legged best friends who love to travel with us are chipped and we are so thankful to PetLink!
---