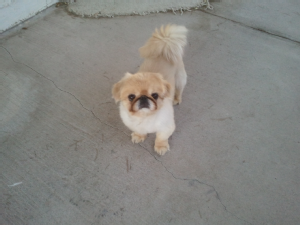 I had company stay over in my house on May 25th. Sometime around 11:30 p.m. I heard my dogs barking kinda wildly, but I just figured they were barking at my friends. Anyway, sometime around 7:00 a.m. on the following day, May 26th, I went outside to my backyard to take my dogs out when I noticed the gate on the side of the house was open. I immediately saw that my Pekingese, Palomino, was gone. I wasn't sure how long he had been gone so I started a search around my neighborhood, but to no avail. I went back home and updated my contact details on PetLink. I also posted that Palomino was lost on Craigslist and on the website Lost Dogs of El Paso. After I finished posting on all the websites and had printed some 'Lost dog' flyers, I went back to the search.
At about 11:30 a.m., I get a call from PetLink advising me that someone had found my Palomino. The finder, a lady named Christine, said that around midnight the previous night, she had seen Palomino walking down a busy street located about two blocks from my house. She said Palomino appeared lost so she stopped and picked him up. She ended up taking him home for the night as it was already late. In the morning Christine took him to the vet to see if Palomino was chipped and was happy that the scan revealed the dog had a name and that I was the owner who would be contacted very quickly by PetLink. Christine and I met, since the vet and the area where I was searching were somewhat close by, and Christine gave me my bundle of grumpy dog (Palomino resembles Grumpy Cat).
I offered Christine reward money but she declined. I would not hear of it and handed her $200 for her trouble and caring actions. It just happened that it was my birthday and I had been very, very sad but, because of Christine's action, Palomino and I were reunited very fast. My best birthday ever!!
---