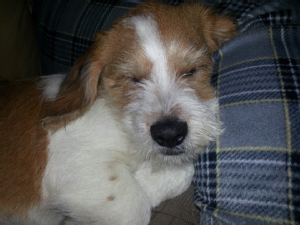 Posted: December 21, 2012
When our puppy, Charlie, a Bassett-Shih Tzu mix, went missing, we presumed that he was dead. We live on a ranch far from other houses and there are wild animals prowling. Instead, our little guy, Charlie, found a way to walk to the nearest barn and kept himself safe till morning. When someone came to look at the horse in the barn, she found Charlie. The woman, being elderly, knew she could not take care of a puppy, so she called a friend who sent her son to pick up the dog. They kept Charlie for two weeks and, since no signs had been posted and no authorities had contacted them, they assumed, due to the location where Charlie had been found, that someone had dumped the puppy.
In any case, they took the dog to the vet, he scanned Charlie's microchip and then they called PetLink. Because they thought Charlie had been abandoned, the people who were sheltering Charlie wanted to know why we, the owners, did not care about the little dog. I was so shaken to hear this because they had misunderstood that Charlie was a lost dog. The telephone operator merged the calls between me, the vet and PetLink. The PetLink representative kept me calm and was able to explain to the other family with the vet that we loved our baby, Charlie, and once I had explained the situation we got him back. We really did presume that Charlie was dead, the victim of coyotes or bobcats and so we stopped looking for him. Without the microchip no one would have known he was alive.
---