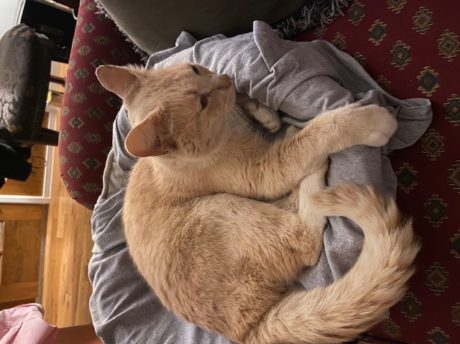 We moved in August with our two free-range cats from one side of Boone, NC to the other.  Knowing we should keep them indoors for at least a month, we were careful, but 4-year old Riley slipped out just 3 days in our new home. He circled the house twice and then was gone.
 After almost 3 months missing on the day before Thanksgiving, we received a call from Shiloh Animal Hospital near Raleigh, NC. A Good Samaritan found Riley on their deck under a chair canvas cover of their vacation home atop Appalachian Ski Mountain in Boone. They coaxed him out with food, then brought him inside for the night (there was a low of 18 degrees!). The next day they took Riley with them to their home near Raleigh, NC intending to adopt him, stopping by their vet for a checkup. And, of course, the vet found his microchip.
 I believe Riley was heading to his former home and he was about halfway there. The distance is only 5 miles "as the crow flies" but on foot, very difficult terrain.  Somehow, he managed to travel over a busy 4-lane highway, cross the South Fork of the New River and several streams, evade the many predators in the area, then work his way up to the top of App Ski Mountain.  With winter approaching though, little game to catch, and NO fat reserves, he probably would not have made it.
The PetLink chip worked and we are so thankful.  While Riley would have found a new home with the good Samaritans, we would have never known what happened to him.  AND we would never have been reunited.  It was a Thanksgiving miracle and gift.
---