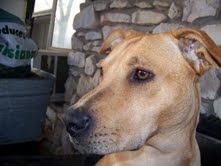 Posted: December 21, 2012
Our Pit Bull Terrier, Sassy, came to live with us about three months ago. She just showed up one day, so I took her to Happy Endings, a veterinary practice, and they scanned her to see if she was chipped. She wasn't, so I had her chipped and she has become a vital part of our family.
Sassy went missing on October 14 this year. We live in the country and we thought someone had stolen her because there was a car stopped in front of the house when my husband came home. Afterwards, we couldn't find Sassy. On October 27, I got a phone call from the veterinarian's office in our local PetSmart.
A lady had found Sassy and brought her in to see if she had a chip. Thank God I had her chipped! They called me and we went to town to get her. I'm so glad to have her back. I thought she was gone for good! The lady who found her lives about five miles from us, which leads me to believe that Sassy followed my husband when he went to visit friends that day.
I'm just so thankful to have Sassy back. The kind lady's name is Ellie and I am so thankful to her for taking Sassy in that day and so very thankful that I had her chipped. I recommend to anyone who loves their pet to take the time to have them chipped.
---