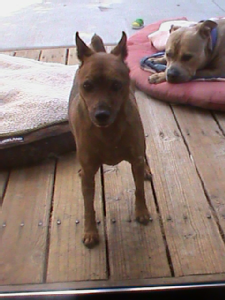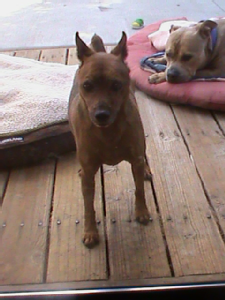 Last week, I received a call from my neighbor explaining how my dogs were barking in our court. I have a mother Pit Bull and two babies, who now weigh 80-plus lbs, and my Min Pin (Miniature Pinscher) Rusty. The dogs had escaped from the backyard and got loose in the neighborhood. Also, around the corner is a 45mph, six-lane street, close to downtown. I was scared and extremely nervous because Rusty is old and blind and has a protective head-cone. I was at work, about 30 miles from the house. So, I called my husband to get him to drive and check out the situation and secure the dogs.
My poor neighbor was sitting in her truck, afraid to get out in fear that one of my dogs would bite her! I had no communication and just had to wait. As soon as 3 p.m. came, I called home and got the sad news that my Rusty Boy was still loose and now missing.
I sobbed because that day it was 102 degrees and, in my mind, I knew Rusty would be dehydrated or die from heat exhaustion or even worse, get hit by a car. My mind was racing as I drove home that Friday afternoon in rush hour traffic to go look for my dog.
I almost forgot to call PetLink, fearing that he was dead or had been picked up by the Police Department or Animal Control who were already closed. So, I called my local Sheriff's Department instead to report a missing pet and check to see if anyone had reported seeing an old, blind dog barking or roaming the streets with a cone on his head. That call was unsuccessful but then, as it grew closer to 6 p.m., I pulled into my driveway and received a call from a local vet only two blocks from my house.
Without hesitation, I drove to that clinic to go and get Rusty Boy. I was relieved to know that a couple had picked up Rusty and brought him there earlier in the day but the staff had been too busy to notify me. I was reunited with Rusty Boy and was so happy and grateful that we chipped him years ago just in case he got out of the yard or loose in the city.
I'm very grateful to PetLink and recommend to anyone who cherishes their beloved pet to register it and join PetLink. It will save you a lot of time in the future!! Based on the fact that we live close to a busy street, that he is old and blind and barks if anyone tries to get close to him, I can't guarantee that, if Rusty hadn't been microchipped, the outcome would have been the same. So, I can't express my gratitude at such a happy outcome!! Thanks again!! =o)
---