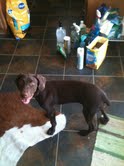 Posted: February 23, 2012
I was in boot camp, in the coast guard, so my phone was off when Lacey, my German Pointer, was found. I was blissfully unaware Lacey was even missing, as my wife didn't want the first story I heard after two months at boot camp to be that she'd lost my dog! Throughout that time my wife kept going onto the PetLink website to see if Lacey was reported found. She was freaking out!
In the meantime someone found Lacey. It was a guy who saw her running on the road. He owns dogs and he figured he'd want his dogs to be picked up. He says that Lacey sat on the passenger seat, put her head on his lap and went with him. He took her to the nearest vet who scanned the chip. It worked out perfect, real good, because the vet used PetLink to get hold of us. There was as much human emotion as canine emotion when my wife was reunited with Lacey before I found out. Lacey's microchip was pretty helpful – without PetLink we might never have got her back.
---