Blog: National Lost Pet Prevention Month Series #2: Moving to a New Home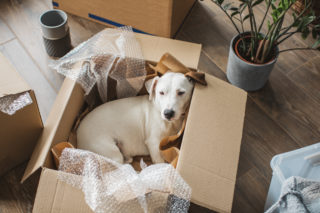 Moving to a new place is stressful, but it's even more stressful for pets. Dogs are most at risk the first 30 days after a move, as they are not acclimated to their new home. Besides wishing desperately that our pets could simply tell us how we feel, we must do our best to prepare them (and ourselves) and make a move-in day as stress-free a day as possible. Here are some tips on how to make that happen:
Get Your Pet's Microchip Checked before the day of the move, it's a good idea take a trip to your veterinarian for a few reasons

They can scan your pet's microchip to make sure it's in working order
They can give your pet a standard wellness exam before the move
They can/may recommend a new veterinarian for you and/or arrange to transfer your pet's records to the new vet's office.
Remember to remind your vet to scan your pet's chip, and if you haven't already, write it down in a printed file to have on hand.
Update Your Pet's Information on PetLink.net
After your pet's microchip is checked, login to PetLink and update your contact information. Change your address to your new one, make sure all your pet's details and photo are up-to-date, and add in emergency contacts just in case.
Keep Your Pet Away from the Hustle and Bustle
On the day of the move, keeping your pet away from the busiest areas of your new home is essential for a loss-free move-in day. We highly recommend leaving your pet with a trusted family member or friend (preferably near your new home if that is possible) or kenneling your pet until the initial move-in is done.
If you are uncomfortable with or cannot feasibly do either of those options, making sure your pet is secluded in a quiet area of the house is the next best thing. Put them in an extra room or the garage (weather permitting) in a crate with water, food, and a favorite/comforting toy. Take a break for a walk (for dogs) or put them in the bathroom with a litterbox for at least an hour (for cats) so they can relieve themselves and avoid more stress.  Walking your dog can also help them become accustomed to their new surroundings.
Lastly, you may want to grab some collars and tags from the PetLink store, so everyone knows, at-a-glance, that your pet is registered in PetLink should they become lost! We hope these tips help! Have a safe and stress-free moving day!