Blog: What To Do If Your Pet is Lost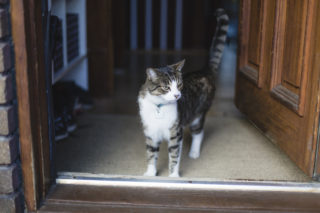 At PetLink, we know accidents can happen; doors and windows can be left open, fences can have holes in them, and pets could get lost. Therefore, it's important to have a plan in place in case your pet goes missing.
We want to reassure you that the PetLink call center is working as normal. We are here to support you 24/7 should your pet get lost.
The PetLink Team has prepared some tips to help you with actions to take and ways to stay calm in case you ever need to find a lost pet.
Actions to take now:
Have a digital image of your pet ready for social media – why not take a photo now, just in case!
Log into your PetLink account to make sure you contact information is up to date; and we strongly encourage you to list an alternative contact as well
Be extra vigilant about doors and gates being closed, particularly with children being home from school for summer holidays
Action plan if your pet gets lost:
Here are some tips to help you report your pet as lost, and to organize a local search to get your beloved pet back home as soon as possible. Please feel free to print these tips and keep them handy in case of emergency.
Remember the "Three R's" of locating a lost pet:
Remain Calm
Report & Review
Recover
Remain Calm
Know that you have the protection of a microchip and PetLink registration on your side. We suggest you log into your account to make sure your contact information is up to date; and we strongly encourage you to list an alternate contact as well
Make sure you have your PetLink login details on-hand
Report & Review
Login to your PetLink account and complete a Lost Pet Report
Review your contact information and update it if needed
Have a digital image of your pet ready for social media
Prepare and print PetLink Lost Pet Posters; be sure to include a recent photo of your pet
Be specific about where you think your pet was lost
Describe any special markings on your pet and any medical conditions
We recommend that you do not include a specific amount as a monetary reward
Avoid using terms like "show dog", "breeding dog", "rescue dog" that indicate monetary value
If possible, have the posters laminated before posting them outdoors so they may better outstand the weather
Recovery
Use social networks (Facebook, Instagram, Nextdoor, Craigslist, etc.) to mobilize your family and friends
Try to identify social media groups located in a two-mile radius of where your pet was last seen

For example: church groups, friends, neighborhood groups
It's important to do this as soon as possible when you realize your pet is missing

Begin posting and distributing your Lost Pet Posters (for which you can find a template on PetLink) while you canvas the neighborhood. Leave posters with local businesses, vets, animal shelters, community centers, parks, etc. Be sure to include UPS and FedEx drivers, police, crossing guards and other neighborhood regulars like walkers and joggers.
More Helpful Tips:
Extend your search by calling friends from other towns and cities
Call local animal shelters, vets, and animal control facilities to see if they have your pet
Cautionary Tips
Although we're here to help protect and recover your pet, we're also concerned for your safety.
Protect yourself from scams and unscrupulous people who seek to take advantage of you in a vulnerable state
Avoid calls asking for money or transportation faire
Always meet someone claiming to have your pet or have information about your pet in a public place and never go alone; do not invite strangers to your home or give them your address
Before calling off the search, verify that a found pet is, in fact, yours
Stay hopeful! In a study of US Animal Shelters, dogs and cats with registered microchips were more than twice as likely to get back home
The PetLink Team wishes you and your pets well!
If you need to report a lost or found pet, please call us at 1-877-PETLINK (738-5465) or email us at petlink@petlink.net. Our dedicated team would be happy to assist you.