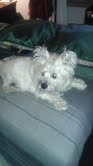 Our Cairn Terrier, Stinker, didn't get very far from home. He turned up seven or eight houses away on a cul-de-sac at the home of some neighbors we didn't know. Stinker had found a weak spot in our wrought iron fence where it had rusted. He forced his way out and it must have hurt because he had some black paint on his back when we found him.
We live on a golf course and he took off into the wide open spaces. Fortunately, he had his PetLink blue tag on his collar so the people who found him loaded him up and took Stinker to the local PetSmart. That's where they read his chip and the emails and calls started coming.
I inherited Stinker from my mother when she passed away eight years ago. She was the one who chose his colorful name after I gave him to her as a present for companionship. Before she died, I promised to take care of him.
When he came to live with me, people would come to the front door and Stinker would run out. I always had the fear he would get away and I wouldn't be able to catch him. So, because Stinker likes to dart out the door, I decided to get him chipped after he got out twice. I think it was my mother sending me a subliminal message. I had been thinking for years 'I need to get him chipped' and one day at the vet's for another procedure I saw a poster on the wall and asked 'Can we do this today?' Why did I notice it this time for some reason? Was it circumstantial or my mother?
I never really thought I would necessarily need to use the chip but it works really well. What makes the chip work is people cooperating. It's a network thing, but it can only really work if everyone is sure to communicate new data about their contact details. As it was, we got hooked up through PetLink fast and things didn't go bad. My other dog now has a chip too and it works great. I haven't let my mother down.
Stinker was already 12 years old and had just had knee surgery when he got out through the fence recently. On top of that, he had been diagnosed with leukemia and diabetes. I was worried sick because if he'd been gone more than 24 hours it would have been a big deal.
I got a phone call and an email from PetLink within minutes of each other, telling me about the people who had found Stinker. I took my new neighbors round a fruit bouquet and chatted with them. It was nice all round and made me aware that my behavior, when I see a lost dog, will be different. This experience has reinforced for me that the right behaviors have to occur to you, because you can be on both sides.
---