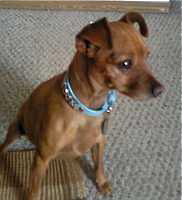 My miniature Pinscher, Shylah, escaped from my yard while I was out on January 9. Someone took her to a local shelter about the same time I got home. Her chip was not registered (I was neglectful – I had not done it yet!), but I got that done as soon as I reached home and found her missing.
I called local shelters, but none reported her found. I printed up posters from the PetLink site, and put them up in my neighborhood. As I was doing this, I came upon a poster from the local shelter – the Denver Dumb Friends League –notifying me that she had been turned in! By then, the shelter had closed, and I had to wait until this morning to go pick her up. They had checked her chip the evening she was brought in, but it was not registered. I had called the shelter about the same time she was brought in, so we were like ships passing in the night! I was taught a very painful lesson last night – if I had just registered Shylah's chip right away, I might have avoided all the worry and distress I experienced while she was missing.
My dog is now registered, and Shylah is home. I am thankful for the posters PetLink made for Shylah, as it made it quick and easy to get her information up in my neighborhood. When I returned from picking her up at the shelter this morning, I had a message from the family who had rescued her, telling me where she had been taken! They had seen my posters this morning, and didn't want me to worry any more…
The Denver Dumb Friends League told me they would have checked Shylah's chip again before putting her up for adoption after 10 days. I believe I would have been notified then. Please don't wait to register your pet!!!!
---