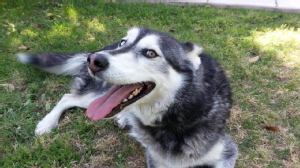 Posted: September 3, 2013
On the 4th of July I received a call from my boyfriend, Jose, telling me that our Husky, Loki, had broken the fence and left the backyard. We live close to a busy intersection and as soon as I knew he was out I feared the worst.
I immediately went on the PetLink website to report the case and to make posters. In the end I didn't need to use the posters I had printed out on the website but I feel it is an easy and effective tool to have. All I had to do was post a picture!
A few hours later a person contacted Jose's phone. The call was from a local vet who told me that the person who had found Loki wandering through the neighborhood quickly took him to the vet to see if he was chipped. They scanned Loki and, soon after, contacted us, letting us know that he had been found and was in great health. I was so relieved to hear the news!
If Loki hadn't been microchipped he would have never been back home with us. I am deeply grateful to the honest people who found Loki and I am so happy that we invested in this microchip.
---