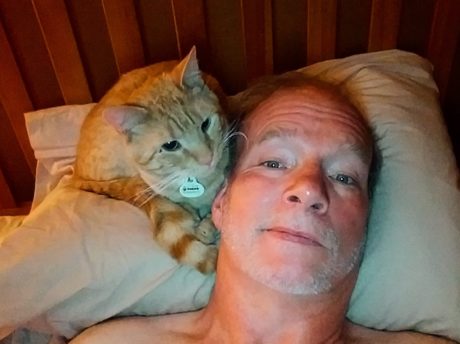 I recently rescued a beautiful, but blind, orange tabby. He was very sick upon discovery, thrashing around in my backyard. With a lot of help from the vet, we got him on the road to recovery.
Three weeks later, he was scheduled to be neutered. I chose to have him micro-chipped at that time because I was concerned about the prospect of him getting away from me.
Wouldn't you know, exactly one month later (and still full of testosterone) he pushed his way out the corner of a front porch screen. He got into the cornfield behind the house and was gone. I couldn't sleep that night, to think he was out in the wild from which he was rescued when terrified.
Exactly 24 hours after he disappeared, I received phone calls and texts from PetLink to say he was found a quarter-mile away at an apartment complex within sight from my backyard. He managed to get through the cornfield and was spotted by a caring young girl named Willow, who said he was "bumping into everything." Willow took Batman to a neighbor she knew cared for cats. Diane called the PetLink number and Batman was home within an hour.
Best investment ever! Thank you to Willow, Diane and the whole PetLink Team.
---