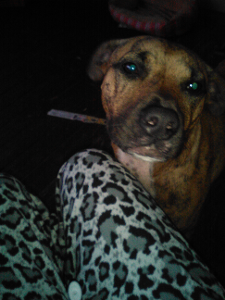 When our Whippet/Terrier cross, Honey, got out I was sick and had not been able to be as vigilant as we needed to be making sure the doors were closed securely with guests coming in and out of the house to visit me. This was when Honey found an opportunity for a little run around the neighborhood, and Honey sure loves to run!
While she was gone Honey had a not so nice run-in with a few neighborhood bullies. The nicest couple found our sweet girl getting rocks thrown at her. Initially they didn't have a clue who the little dog belonged to. My daughter had not put Honey's collar on after she had given her a bath so there was no obvious ID. Honey loves car rides as much as she loves to run so she happily jumped in the couple's car and they rushed our baby girl to the vet to get checked out and scanned for a microchip. The microchip number gave the vet the information needed to bring Honey home to us.
PetLink contacted me and, even though I was still drowsy from anesthesia, the operator was able to connect me with the couple who found our little wanderer. So, my daughter was reunited with her best friend within two days and it would have been sooner if I hadn't been in surgery while they were trying to contact me! Thank you so much PetLink. My daughter and Honey are bedtime buddies again!
---